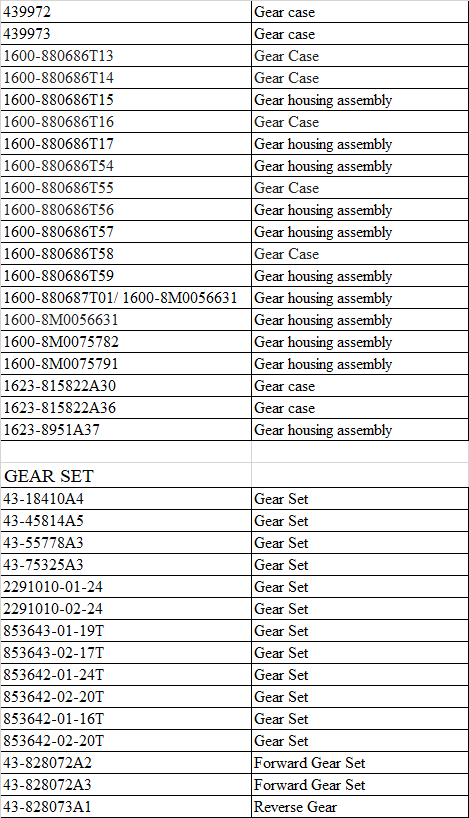 --------------------------------------------------------------------------------------------------
SINERA MARINE INDUSTRIAL Co., Ltd. is a manufacturer of stern drive, ATV, PWC, and Snowmobile parts for aftermarket.
Ourwebsite: https://www.sineramarine.cc/
We manufacture products for many boat engine models, such as MERCRUISER (ALPHA ONE, GEN,II, BRAVO I & II)/Inboard/Outboard/SternDrive Engine, OMC Cobra , CHRYSLER/Inboard, VOLVO PENTA, etc.
Parts including :
Drive Shaft Housing, U-Joint, Yoke, Socket, Retainer, Grommet, Fuel System, Special Tools, Starters, Thermostats And Kits, Cooling system, Drive Systems, Electrical Parts, Power Term, Remote Control, Transom, Bearings, Prop Hardware, Seal Kits, Gear Case, Gear Housing, Head Gaskets, Electrical, Gearing Housing Bearing, Oil Seals, Piston Kits, Cage Bearings, Power Packs And Amplifiers, Water Pump Parts, Cup, Impeller, marine hardware, Shim, Bushing Assembly, Clip, Shift Shaft, Insert, Trim Tab, Shift Spool, Shift Crank, Cross Pin, Clutch Dog, Prop Shaft, Thrust Ring, Thrust Hub, Lock washer, Slinger, Drive Shaft, Draining Screw, Shift Cable Tool, Bearing Retainer Wrench, Shift Shaft Bushing Tool, Drive Shaft Adaptor, Drive Gear Shimming Tool, Hinge pin Tool, Trim Cylinder, Rear Anchor Pin, Rod Scraper, Steel Ball, Shock Piston, Cylinder Housing Kit, Plate Seal, Clamp, Spacer, Cotter Pin, Reverse Gear, Screen…etc.
Any item about boat spare parts and engines, welcome to contact with us for enquiry.
We also can develop by customer requirements if you have large demand.